Overview
Wolf Studios Wales is the premier filming facility in Cardiff, Wales offering 125,000 sqft of stage space, a 10-minute drive from Cardiff Central Station, 30 minutes from Cardiff International Airport and just 2 hours by train from London. Wolf Studios is also extremely convenient for reaching the many and varied amazing locations in Wales.
In addition to the 6 state-of-the-art sound stages we offer high quality, flexible office space, edit rooms, quiet spaces and gardens, auxiliary rooms, costume and props storage and fabrication, parking, unit parking and serviced backlot areas.
Screen Alliance Wales is also on site, with a purpose-built classroom and assists our productions in sourcing the very best new talent, crew and equipment.
Credits since opening in 2017: A Discovery of Witches, Doctor Who, His Dark Materials and Industry.
For all enquiries, please contact the Reception at Wolf Studios Wales via reception@wolfstudioswales.com
Accessibility
We welcome all feedback on the experience of working and visiting our space as we work alongside other UK Studios to reach full accessibility by 2030.
Wolf Studios Wales is an accessible space offering a warm welcome to all, offering:
4 disabled parking spaces
PEEPS as required
Quiet rooms
A portable induction loop
Visual fire alarms
BSL-trained staff
Equal opportunities policies and Respect in the Workplace training.
We are signed up to the Disability Confident, Endometriosis Champion and Sunflower schemes and have a D&I Champion and working group to guide our work and follow industry best practice.
Since August 2023 we have become one of the first TV Access Project Activators.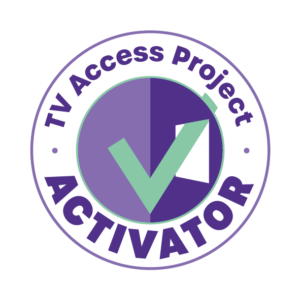 Sustainability
Wolf Studios Wales and the Bad Wolf productions who are based here are constantly aiming to reduce our carbon footprint and we do this in the following ways:
We are proud to have taken part in @wearealbert's Studio Sustainability Standard, a voluntary initiative to support film and TV studios to become zero carbon, zero waste facilities and to help productions in their own sustainability journeys.
We support our productions with their albert certification and engagement with their suppliers.
We constantly review through our Sustainability group and have a green procurement policy, which we use to vet suppliers.
We run a circular economy model, which re-uses costumes, props and office/location items (369 items in past 12 months) or donates them to charities and local colleges and companies.
We have introduced paperless clock in and out systems.
We also:
encourage recycling and are 0% waste to landfill
use 100% green electricity
offer composting and food donations to local charities; use rainwater for our garden which has biodiverse planting
use bio cleaning products
offer electric car charging
offer a free shuttle bus from Cardiff City Centre to the Studio and back
collect clothes and household items for Welsh charity Ty Hafan

Stage Dimensions:
Stage 1 21,661 sq ft, height: 32- 41 ft
Stage 2 14,531 sq ft, height: 35- 41 ft
Stage 3 14,531 sq ft, height: 35- 41 ft
Stage 4 30,000 sq ft, height 35-41 ft
Stage 5  20,000 sq ft, height: 35- 41 ft
Stage 6 24,497 sq ft, height: 57.5 ft